One Legged, 2001,
wood, artificial leather , polyester wool,
105 x 55 x 27 cm


The objects of Nadine Rennert are highly charged semantically. The artist plays on a keyboard of different associations which are as well integral part of the material as of its form. The narration is not explicitly described, but left in a condition of insinuation and vague inkling.
(…)
The irritating erotic object that is not able to stand on its own but leans at the wall, triggers different reactions from the observer, which are dependent of this particular disposition.

Marc Wellmann in: Die Macht des Dinglichen, Skulptur heute, Wienand Verlag, 2007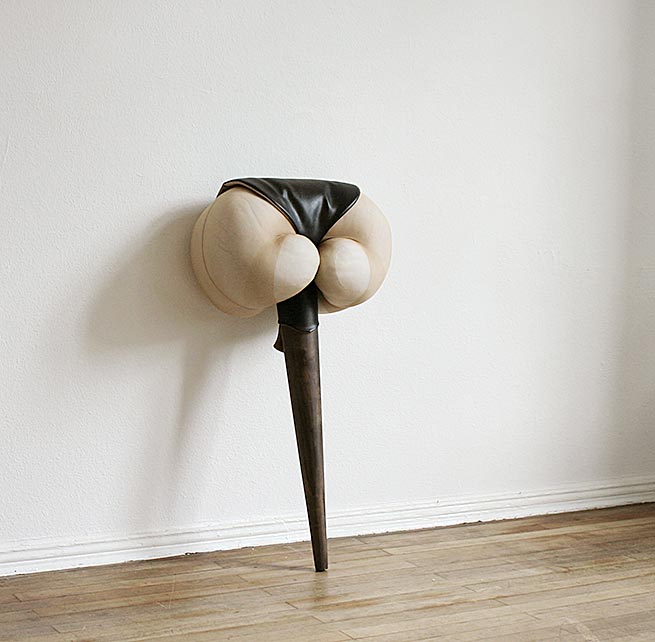 Functional Landscape, 2001
artificial grass carpet, artificial leather, artificial fur, acrylic mirror,
app. 20 x 400 x 400 cm
The functional landscapes of the Berlin based artist are playgrounds with mirrors, of which several are mounted on different places. They increase the mani-foldness of the works which are always ambiguous. Also on display in the exhibition are her earlier objects, buxomly padded, partly constricted fetishs, which connect an explosive contradictory unity of pulsing eroticism and turned off monstrosity.

MICHAEL HÜBL, Ambigue Knautsch-zonen für Kunstforum International, 2001 über die Ausstellung Funktionslandschaften in Berlin
The eccentric topples into thoughtful pumping melancholy.

ALEXANDER BRAUN, HYBRIDEN, ÜBERALL HYBRIDEN, 2000, PUBLIKATION DER KUNSTHALLE ERFURT ZUR AUSSTELLUNG SCHWERER WERDEN. LEICHTER SEIN.
---
These "flowers" celebrate their blossoming with thunder like energy, that replaces space and is frozen in the movement. The artist succeeded to keep the unfolding form on its climax, in the moment of its uttermost tension force.

Alexander Braun, Hybriden, überall Hybriden, 2000, Publikation der Kunsthalle Erfurt zur Ausstellung Schwerer werden. Leichter sein.
---
Unicorn, 1995
tapestry with scenes of hunting, styrofoam, wood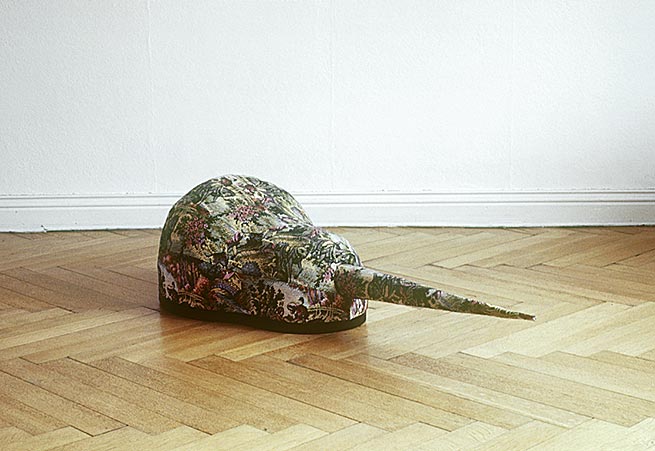 Folded Objects:
Oubliee, 1993, fabric, wood,
Den Rock tut sie nicht, 1993, fabric, wood, rubber roll,
Consol 3, 1993, wood, color, double face fabric
Wall paintings:
Without Title, 1993, wall paint, pillows, 190,5 x 230 x 49 cm
Console 2, 1992, wall paint, console, fabric, 120 x 230 x 55 cm

Two examples of a series of installations of the years 1992-1993, in which I contrasted illusionary space directly painted on the wall and reality that is defined with objects.
---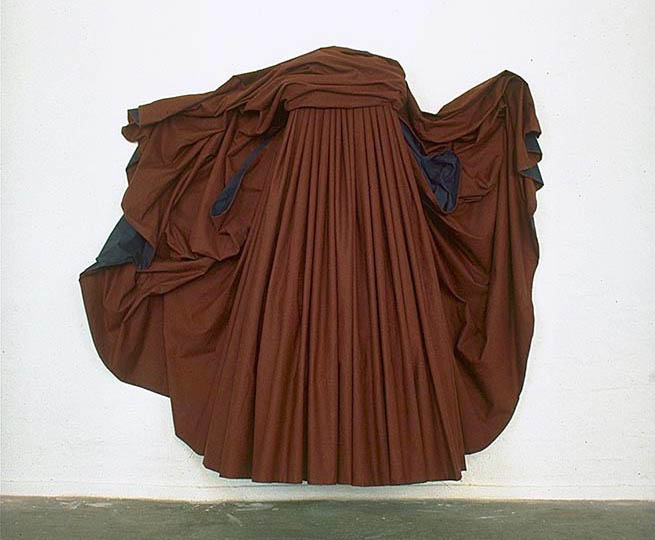 Drapery, 1992
double faced fabric, wood, 190 x 160 x 45 cm
---
Console 1, 1991
wood, double face fabric

My very early works consist of the principle of carrying and hanging.